Dependable Wyckoff Cleaning Company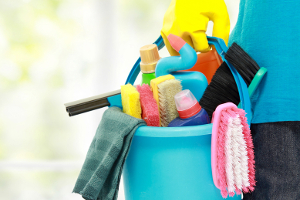 There are plenty of things that can put a damper on your day such as having to find a Wyckoff cleaning company. What may seem like trying to find a needle in a haystack is a lot easier than you think. Things like having to take out the trash out or washing clothes no longer becomes a chore for you. Meticulous Cleaning can attend to your residential or commercial needs.
As we offer all different types of cleaning; we also do industrial. It's something that never crosses some people's minds while it may be on their's constantly. Industrial cleaning takes place in "industrial" setting such as factories, plants, and other large facilities where machinery is used.
Having a sudden breakdown can cause a loss to your facility. This will often result in a loss of money and time. You cannot afford that and that is why we'll be there to make sure your machinery is running at top speed. We care about your facility as we have been cleaning since 2006.
Residential House Cleaners in Wyckoff, NJ
Your home is one of the largest investments that you will ever make. You'll be paying on it for the next 30 years. This is why hiring a Wyckoff cleaning company is important. If you think that we're not affordable, re-think it because we come up with customized plans for your home and ways to get the following Wyckoff residential cleaning services done:
Vacuuming
Sweeping
Window washing
Dusting
The last thing that you need in your home is poor indoor air quality. What we breathe in is important and when you're breathing in nothing but allergens and bacteria; you're damaging your health even more. We'll eliminate the poor indoor air quality from your home and disable it from coming back.
Wyckoff Commercial Cleaning Service
People call us on a daily basis and ask where we clean. Well- that's a good question as we clean all over the place. Our Wyckoff commercial cleaning has been done in churches, restaurants, and other facilities in which you've visited over the years. We all deserve a chance to relax while worshiping or eating at our favorite restaurant instead of trying to avoid dirt.
A dirty facility causes pest infestations. It's the law to keep up with the cleanliness of your building. When you call us; you'll be in the safest hands possible because we will not allow for the infestations to grow or webs and eggs to develop throughout your commercial facility.
Call us and see if we can clean your facility. We will not get in the way of your employees as we can do the cleaning after hours. There's no reason why you shouldn't have a clean appearance and a facility to go with it. You're only fooling yourself and cheating your patrons.
Let our Wyckoff cleaning company cater to your needs. We have different cleaning approaches that will help get the dirt and other buildup off of your structure. We're the cleaners that the area has relied on for many years and wants to bring our services to you. Contact us for an estimate and see.
What Our Wyckoff Customers Are Saying About Us
---
A top notched cleaning service. They are wonderful to work with and very accomodating. My home always looks and smells great when they are done. The crew are friendly, thorough, reliable,and most importantly..trust worthy. I have been a long time satisfied customer and highly recommend them.

---



Recent Articles
How to Get the Best Commercial Cleaning Service Provider in Ridgewood

Professional commercial cleaning in Ridgewood is a lot different from residential cleaning because it usually means that you're working with more space and larger confines. Cleanliness plays a major role in commercial spaces as it deals with the public sector.It is also the image that you have developed for your business. No one wants to…

Read More

5 Commercial Cleaning Tips You'll Want To Know In Paramus

Part of owning a New Jersey business is to be aware of how things should work. For instance, you don't want a commercial cleaning crew who doesn't understand the importance of sanitation and how to not contaminate other surfaces during cleaning. The more experienced your Paramus commercial cleaning company is, the more reliable they should…

Read More

If you are looking for a cleaning company in Wyckoff, please call Meticulous Cleaning at 201-389-3393 or fill out our online request form.