How To Keep The House Tidy Between Cleaning Services When You Have Kids
---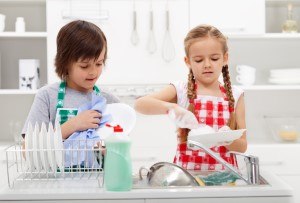 Are you looking for tips about how to keep your Ridgewood house tidy between cleaning services? Does it seem like an impossible dream because you have a house full of kids? Take a look at these tips from our Ridgewood cleaning company that may offer you a good solution.
Growing up with household rules isn't all that bad for kids. In fact, it's good for them and the rules are usually harder for the parents who have to enforce each rule. Our kids can really put us to the test, making it so easy to just give up.
If you do you have problems setting rules about keeping the house clean between cleaning services, we suggest posting a list somewhere in plain site. There are a few key things you want on the Household Rules sign, so take a look below.
We also suggest a few things below to put on your Household Rules sign that will help to keep the mess at bay between professional cleanings. Speaking of posting signs, the first sign you'll definitely want to post is the Chores list.
Everyone Helps With Cleaning – The Chores List
Since everyone in the house is responsible for making the mess, everyone can do their part to keep the house tidy between cleaning services. Even working parents and single people in Ridgewood have to do chores to keep the mess from getting overwhelming, so don't let your spouse off the hook either!
Posting a chores list is a great way to enforce the rules so your house stays tidy between residential cleaning services. Instead of having to argue with the kids over who has to do what, just point to the item on the chores list. Since you have a Ridgewood cleaning service, your family chores list won't be very long, yay!
Some chores that could help between cleaning services are:
Washing dishes
Wiping countertops
Taking out trash
Sweeping or blowing porches
Spot vacuuming
Spot sweeping indoors
Dusting once a week
Picking up & putting away personal items
Tidying bathrooms
Laundry (just towels, kitchen towels, or sheets if your cleaning service handles laundry)
Household Rules – Keeping The Mess At Bay
Keeping your Ridgewood house tidy between professional cleaning services is easiest when your family sticks to some basic rules.
Make sure to be as brief as possible on the Household Rules sign or it won't be quick and easy for the kids to reference if they forget something.
Put Toys Away Before Getting More
Take Personal Items With You Before Spending Time In Another Room
Pick Up After Yourself In The Bathroom – Always!
Don't Leave Dishes In The Sink
Clean Up Spills Right Away
Don't Litter Outdoors
Don't Make A Big Mess When Friends Visit!
Clean Up After Friends
If you are looking for residential house cleaning services in Paramus then please call 201-904-3470 or complete our online request form.