Waste Disposal for Special Events: Cleaning Services in Wyckoff
---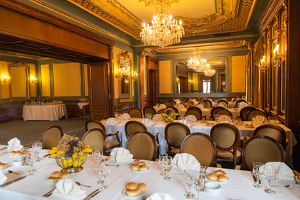 Waste is something that a lot of people don't consider at special events but it's a large part of it. There's normally a lot to dispose of after an event no matter how big or small it is. This is why hiring someone to do special event cleaning services in Wyckoff is so important.
Recycling is an essential part of the clean-up. Paper, plastic and glass should all be placed in a properly marked receptacle. This will ensure that it gets reused at some point in time and also preserves the environment keeping it from pollution.
There are many parts to a clean-up, especially if it is indoors. Outdoor events are easier for clean-up as trash is put into a dumpster and there's always people to patrol the grounds. But-the inside of a building is the toughest because it entails the following special event cleaning services in Wyckoff:
Floor care
Restroom cleanup
Seat cleaning
Special areas
Support staff
Now picking out a cleaning service who specializes in special events is the hard part because there are many local choices who claim they can provide certain jobs but often end up ducking out at last minute because of the complexity.
Always make sure and do a small interview with them before committing. This ensures you're getting the right maid service and at a price you can afford. There are many different types of events some of which house a lot of people. The following events require a supportive cleaning staff:
Weddings
Large birthday parties
Anniversaries
Charities/Auctions
The pre- part of an event demands professionals just as well as the post. Pre-planning requires that trash receptacles be put out, the bathrooms are immaculate, and there's no garbage on the walkways. You want your next event to go unhitched.
It's hard to believe that some people do not pay any mind to the needs of special events. In order to be the best in cleaning services; you need to have a good maid service. One that is ready to go when you need them and do not have to ask them to do something.
You can find cleaners locally. Hiring local ones will ensure you're getting quality craftsmanship along with customer service because maintenance and communication are very important detials in any aspect of a special event. Sometimes this requires licensed and insured cleaners.
Call around before committing to one Wyckoff special event cleaning service. This will help get you the right one for your next big event. Also-make sure to go over price in accordance with your budget.
If you are looking for special event cleaning services in Wyckoff please call 201-389-3393 or complete our online request form.