Reliable Residential or Commercial Cleaning Company In Edgewater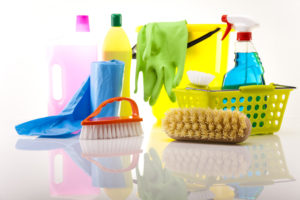 When it comes to cleaning, not everyone has the patience or desire to do a good job. Some cleaning companies don't take care of the details or bother to sanitize properly.
It's important that the cleaning is done right or it will need to be done again too soon. And, the environment can be unhealthy if sanitization isn't handled right in bathrooms or common areas that everyone shares regularly.
All that work takes time and trouble. If you don't want to do your own house cleaning or you need help from a commercial cleaning company in Edgewater, call Meticulous Cleaning. We'll be glad to offer you a quote for service. We can tailor the service to suit your needs, so being flexible isn't a problem as long as we come up with a plan together.
As professionals, we understand that you may have trouble finding a reliable cleaning crew. Let us assure you that we are completely professional. You'll have the type of service you expect and deserve every time.
We have the equipment and skill to handle all types of cleaning, so let us know what you need when you call. We look forward to offering you a quote and discussing your residential or commercial cleaning service needs in Edgewater.
Residential Cleaning Services For Edgewater
If you're ready to call for help with house cleaning chores in Edgewater, we're ready to get the job done. We offer all types of cleaning whether it's once a week, once a month, every Monday and Thursday, seasonally, or one time only.
We offer green cleaning service if you need a healthier indoor environment that's safe for kids and pets. We do carpet cleaning and more. Oh, and if you have a special event coming up or a party you need to host, we do event cleaning as well!
Commercial Cleaning Services in Edgewater
Are you interested in a reliable commercial cleaning service in Edgewater? If so, call and we'd love to discuss the service you need. We handle office cleaning, retail cleaning, restaurant cleaning, and other small business cleaning.
What Our Cliffside Park Customers Are Saying About Us
Recent Articles
The Benefits Of Commercial Cleaning Service In Paramus

Let's face it, cleaning an office or commercial building is not a fun task. Yet we spend so much of our time at our workplace that it actually is a home away from home and it becomes even more important to clean. Some companies have their employees do various tasks as part of their job…

Read More

Residential Cleaning: The importance of Vacuum Maintenance in Paramus

Vacuums are utilized for all methods of Paramus residential cleaning. This is why it's important to learn about vacuum maintenance. Everything from the cleaning of your hardwoods to sweeping up dirt on the carpeting requires a working vacuum.The vacuum you own can become your best friend when properly maintained. This will ensure that the job…

Read More

For professional residential or commercial cleaning service in Edgewater, NJ, please call Meticulous Clean at 201-904-3579, or fill out our online request form.